I got lucky this spring!
(It's true I haven't blogged lately, but I promise to restart in a fast and furious manner.)
When the Edinburgh Book Festival folks decided to send five Scottish writers away from home to travel in North America, they chose Jenni Fagan to be one of those writers. Jenni is a poet and novelist, author of two brilliant voice-driven novels, The Panopticon and The Sunlight Pilgrims, plus several books of poetry, including The Dead Queen of Bohemia, soon to be released in the US. And then, as luck would have it, Jenni chose me to travel with her from Detroit to Chicago to the West Coast. Jenni arrived in NYC today, and I'll meet up with her in Detroit on Saturday, May 20. Our mission is to seek out the truth, more or less. And I hope we get to meet up with some of you along the way.  In Oregon we'll be in Portland and Eugene, and in California we'll try to see everything a person can see in ten days.   Below, you'll find a bit about Jenni's journey (with me!) from the Outriders page–it you visit the page, you'll find info about all five writers.
https://www.edbookfest.co.uk/the-festival/outriders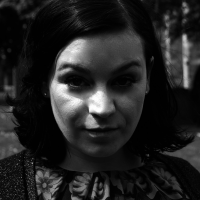 Jenni Fagan
| | |
| --- | --- |
| Joined by: | American novelist Bonnie Jo Campbell |
| Journey: | USA: The Rust Belt to Silicon Valley |
| Dates: | 15 May – 4 June |
| Biographies: | |
| Follow Jenni: | |
bio: Jenni is an award-winning novelist and poet, whose debut The Panopticon is being made into a film. Jenni says "The changes in our political, social and natural landscapes have never been more present or important. I will use this trip to connect with the vast array of people I'll meet on the road, and to ask the question that underpins my work — what is truth? What are the truths of individuals, their inner lives and values, communities, traditions, peripheries? How do people define their own truth and create lives of depth while being confined by a value-based system created around falsehoods of wealth, power and dominance? It is the job of artists to seek truth without flinching but also to celebrate, protect and honour those uncovered truths – and to use them to create literature, generate debate and conversation and provide a connection for the communities and individuals encountered."